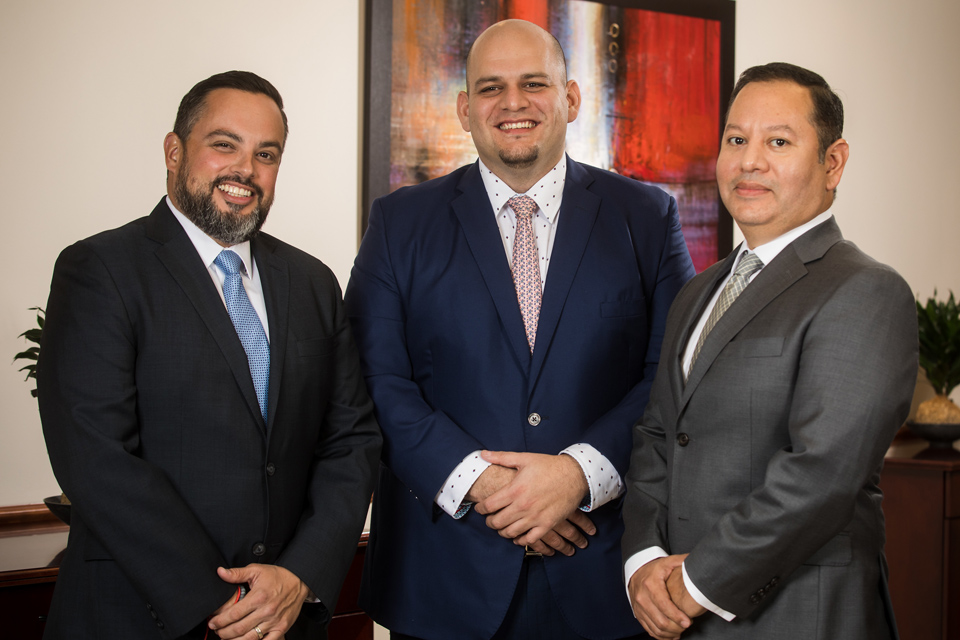 New Law Firm – Bauer Gutierrez & Borbon, PLLC – Brings Comprehensive Scope of Professional and Personal Legal Services to the South Florida Market
New Law Firm – Bauer Gutierrez & Borbon, PLLC – Brings Comprehensive Scope of Professional and Personal Legal Services to the South Florida Market
Merger Between Three Independent Firms Offers Proven Performance in Real Estate, Corporate Law, Estate Planning, Taxation, and More 
Miami, FL | October 4, 2019 | While many Miami-based attorneys are increasingly narrowing their focus to a specific field of law, one new firm is offering a return to the convenience of broad legal expertise from an established team of professionals. Bauer Gutierrez & Borbon, PLLC announced their official launch this week, following a merger of three individually owned firms. The principals, David Bauer, J.D./LL.M, Efraim R. Gutierrez, Esq., and Jerry A. Borbon, Esq., recognized that their combined knowledge and experience could help them serve a greater market of South Florida businesses, entrepreneurs, and families.
"We all share a like-minded approach when it comes to making the needs of our clients our top priority," shared Borbon about the merger. "That is an absolute necessity for a full-service law firm. It ensures that every client has a consistently superior experience no matter who they are working with or what the legal issues are."
Together, the law firm of Bauer Gutierrez & Borbon, PLLC actively represents clients in the following areas of practice:
Real Estate

Commercial and Residential transactions
Litigation
Foreclosure
Landlord/Tenant Issues

Bankruptcy
Corporate Law
Estate Planning
Probate
Guardianship
Tax Law

Tax Audits and Collections
Tax Planning
Tax Compliance
State/County Tax Issues
"Our ultimate goal is to create lasting relationships with clients while providing them quality representation throughout the entire spectrum of their personal and professional lives," offers Bauer. "Clients that own businesses and need assistance with legal matters related to their businesses often need guidance for personal matters, such as estate planning, real estate purchases or sales, or tax matters. By merging our strengths and creating one firm, clients are able to come back to a team they already know and trust."
Gutierrez says the comprehensive services approach is an advantage many clients do not recognize, simply because they do not know it exists. "A specialist may be able to give you excellent advice on a single legal question, but that's rarely the way the real-world works," he explains. "For those who wish to truly maximize their position, you must consider how different aspects of their personal and professional lives overlap. Taking an action in one direction will almost certainly impact another. We've brought three experienced and dynamic attorneys together, who carry a broad base of knowledge, to ensure we're thinking holistically when it comes to the needs of our clients."
Bauer Gutierrez & Borbon, PLLC is located at 814 Ponce de Leon Blvd., Ste. 210, Coral Gables, FL 33134. More information about the firm can be found at www.bgblawgroup.com or by calling 305.340.5959.
About BGB Law Group  
Every client's legal matter is unique and navigating the legal system can be difficult and complicated without qualified, capable support on your side. Bauer Gutierrez & Borbon, PLLC offers a broad range of experience in real estate, corporate law, probate, estate planning, taxation, bankruptcy and beyond, led by three seasoned attorneys. David Bauer is a graduate of St. Thomas University School of Law and also holds a Master of Laws in Taxation from New York University School of Law. Efraim R. Gutierrez is a graduate of Nova Southeastern University's Shepard Broad College of Law and completed his undergraduate studies at Florida International University. Jerry A. Borbon is a graduate of the Florida International University School of Law.